Ingredients
Rapeseed oil, water, sugar, vinegar, onions (3.9%), pasteurized egg yolk, roasted onions (2.9%) (onions, palm oil, wheat flour, salt), tomato puree, concentrated lemon juice, salt, flavorings, paprika (0.6%), colour (cartoons), antioxidant (calcium dis sodium EDTA), may contain traces of mustard
Nutritional Information

Per 100g

Energy

2046 KJ / 495 kcal

Fat

46.1g

O

f which saturates

4g

Carbohydrates

17.1g

Of which Sugars

12

Protein

1.6g

Salt

1.8g
Description
Algerian sauce, also known as Algérienne sauce, is a flavorful condiment traditionally made with mayonnaise ingredients such as oil and egg yolk. To this base, mustard, shallot, black pepper, vinegar, and chili pepper or harissa are added, creating a zesty and aromatic blend. Sometimes, variations include the addition of tomato or tomato sauce, anchovies, capers, and other spices, enhancing its rich taste and versatility.
What flavour is Algerian sauce?
A tomato-based sauce, meticulously emulsified, offering a delightful balance of sweetness and spiciness, enriched with the savory essence of spiced onions.
The Algerian Sauce is the perfect fusion of rich North African flavours and fiery spices. At OriginalFoods, we take immense pride in bringing you an authentic taste of Algeria with our exceptional 'Sauce Algérienne' or 'Algérienne sauce'. Crafted with utmost care and using the finest ingredients, this sauce promises to tantalise your taste buds and transport you to the vibrant streets of the Maghreb.
What is Algerian sauce made of?
Algerian Sauce, also known as 'Sauce Algérienne' in French or 'Algérienne Sauce' in English, is a culinary masterpiece celebrated for its unique blend of traditional spices and contemporary flair. Bursting with zesty aromas and a fiery kick, this sauce is a versatile condiment that complements a wide range of dishes. Whether you're grilling succulent kebabs, indulging in a flavoursome tagine, or simply drizzling it over your favourite appetisers, our Algerian Sauce is the ideal accompaniment that adds an unmistakable North African twist to any meal.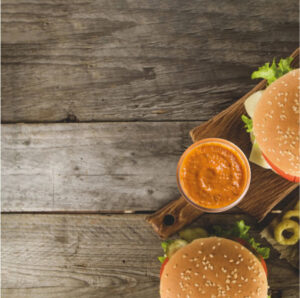 Why is it called Algerian sauce?
Algerian sauce doesn't actually come from Algeria at all! It was created in Belgium by a man who is not of Algerian origin, but rather of Moroccan origin! However, he must have been inspired by the delicious cuisine of Algeria and North Africa in general.
The harmonious blend of sun-ripened tomatoes, aromatic herbs, piquant chilli peppers, and traditional spices ensures a symphony of flavours that dance on your palate. The smooth texture and robust taste of the Algerian Sauce will leave you craving more with every bite.
Versatile and indulgent, our Algerienne Sauce serves as an excellent marinade, a lip-smacking dipping sauce, or even a delightful dressing for your salads. With its perfect balance of heat and flavour, it satisfies the cravings of spice enthusiasts and appeals to those looking to elevate their culinary experience.
Experience the true essence of Algerian cuisine with our Algerian Sauce – a culinary adventure that embodies the spirit of the North African region. Savour the flavours, and let the 'Sauce Algérienne' become your culinary companion.
Treat your taste buds to an explosion of North African zest with our Algerian Sauce. Unravel the mysteries of Algerian cuisine, one delicious bite at a time. Don't miss the chance to add the vibrant and enticing allure of Algeria to your culinary repertoire. Order your jar of Algerian Sauce today and embark on a flavourful journey to the heart of North Africa.
Discover the Unforgettable Taste of Mums Algerian Sauce by OriginalFoods
Get ready to embark on a culinary journey like no other with the exquisite Mums Algerian Sauce. At OriginalFoods, we're thrilled to introduce you to our latest sensation – the authentic 'Sauce Algérienne'. Crafted with care and using only the finest ingredients, Mums Algerian Sauce promises to take your taste buds on a delightful adventure through the vibrant flavors of North Africa.
A Fusion of Flavour and Tradition: Mums Algerian sauce captures the essence of traditional Maghrebian spices and contemporary culinary art. With its zesty aromas and a hint of fiery spice, this sauce is more than just a condiment – it's a flavor enhancer that complements an array of dishes. Whether you're grilling succulent kebabs, indulging in a savory tagine, or drizzling it over your favorite appetizers, she is the perfect accompaniment.
A Symphony of Flavours: Mums Algerian Sauce is a harmonious blend of sun-ripened tomatoes, aromatic herbs, piquant chili peppers, and a medley of traditional spices. The result is a symphony of flavours that meet on your palate with every bite. The smooth texture and robust taste of Mums Algerian Sauce are sure to leave you craving more.
Versatile Culinary Companion: With its perfect balance of heat and flavor, Mums Algerian Sauce shines as a marinade, dipping sauce, or dressing. Let your culinary creativity flourish as you incorporate this sauce into your recipes. Spice enthusiasts will revel in its fiery kick, while those seeking a new taste experience will appreciate the infusion of Maghrebian zest.
Experience a Sauce with an Exotic Flavour: Embark on a culinary adventure that embraces the spirit of North Africa through Mums Algerian Sauce. Let the allure of Algeria's flavours inspire your cooking and elevate your dishes to new heights. From tagines to kebabs, salads to appetisers, the 'Sauce Algérienne' promises to enhance every aspect of your meal.
Indulge in Mums Algerian Sauce: Elevate your culinary journey! Don't miss out on the opportunity to experience the heart of North African flavours. Order your jar of Mums Algerian Sauce today!